Obituary: The sparkle in John Chiahemen's eye always told you that he was onto something.
Over the decades, he never lost enthusiasm for that exceptional yarn that would shake the mighty and which he would write with the speed and simple elegance that were his hallmarks, Matthew Tostevin writes.
But John (photo), who died on Tuesday aged 72, was so much more than a brave and dedicated reporter with a fine turn of phrase.
He was a trailblazer and role model.

He was a newsroom leader with an unmatched network of people who would talk to him – and listen to him – from presidents to street sellers.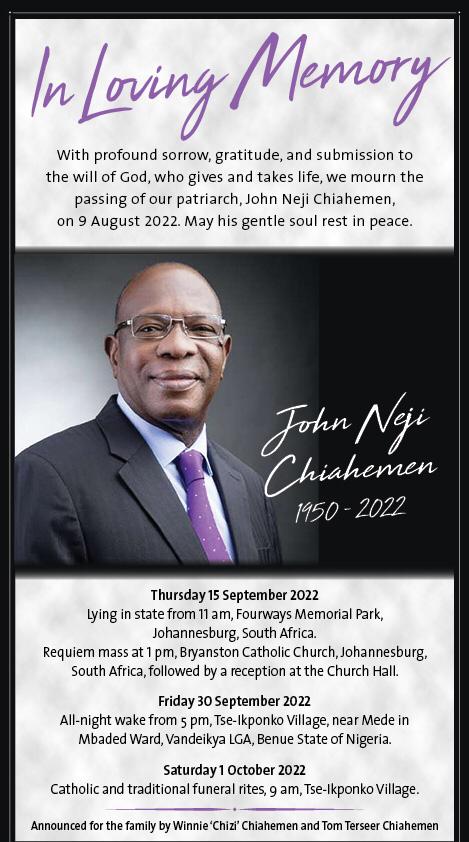 He was a mentor and fierce protector of those who could never have achieved what they did without John's good-humoured guidance.
It was a mark of the respect with which John was held that Nigerian president Muhammadu Buhari was quick to pay tribute.
"The remarkable legacies left behind by one of Nigeria's most accomplished journalists will continue to inspire current and upcoming members of the fourth estate," a statement from Buhari said.
"Chiahemen was respected for his brilliant contributions and editorial role of covering news about Africa from a business and development perspective, beyond the narrow stereotypes of disaster and poverty."
The young journalist from Makurdi in central Nigeria appeared to bulldoze stereotypes effortlessly.
It wasn't from fancy schooling. John was educated close to home in Katsina-Ala and Jos before his degree from the well-reputed Ahmadu Bello University.
Doing youth service at a television station in the southeast city of Enugu, John fell into a world he was to master and make his own. He was a pioneer at the Nigerian Television Authority and held the top news post while still in his 20s.
"John Chiahemen burst into the Nigeria media scene in the 1970s, anchoring the national television NTA Monday programme Newsweek. He won plaudits for his hard-hitting interviewing of the country's leaders who were not used to journalists asking them tough questions," wrote James Jukwey, a former Reuters colleague.
"He joined Reuters after the country returned to democratic civilian rule in 1979. With good contacts within the Nigerian establishment, Chiahemen regularly broke major news and kept Reuters ahead of the competition on most occasions."
With Reuters, John's talents were given a much wider stage.
He moved to East Africa as a correspondent in the early 1980s, a move that like so many others helped to pave the way for other African journalists. It was a time of growing insecurity and John was often out in the field.
"We were privileged to work with him," noted a later Reuters East Africa bureau chief, Jonathan Clayton.
After Nairobi, John moved to Paris and then to a senior position on the Reuters Middle East and Africa desk.
In the mid-1990s, John returned to Africa as the deputy bureau chief for West and Central Africa. The crises were deepening with coups and civil wars and John's steady hand, common sense and courage were vital assets alongside his news judgment and love for the continent.
"His compassion shone through," said Corinne Dufka, now West Africa director at Human Rights Watch. As a Reuters photographer, she was on numerous perilous assignments with John.
On one mission in Sierra Leone, John was in particular danger after the capital was seized by rebels whose trademark was cutting off limbs. They were hunting for Nigerians because of Nigeria's role in the ECOMOG peacekeeping force. John's colleagues hid his passport as they all holed up to await Marine evacuation by helicopter and as the bullets flew ever closer.
"He tried so hard to be calm under pressure," Dufka recalls. "John was incredibly competent, he still filed, he reported, he used his contacts with the Nigerian ECOMOG soldiers and he just carried on and soldiered on with professionalism."
John loved the time he spent with his wife Winnie "Chizi" Chiahemen and daughter Mimi in the relative stability of Abidjan, where they often hosted visiting correspondents. Any reporter who worked with John would quickly find out how much his family meant to him.
All too often, John needed to be back on the road. Never a devotee of corporate penny-pinching, John travelled in the best style he could. He knew it was a way to develop those all-important contacts, though he was as ready as anyone to rough it when he had to.
John's experience and readiness to share made him a guide and inspiration for many.
One young reporter submitted only scanty notes from a first Reuters assignment covering an Ebola outbreak. Returning to the office hours later, the reporter found a perfectly written story on the wire that got him a byline in The Guardian. It was pure John for decades: working selflessly to get the story out while others took the credit.
During an episode in Kinshasa, with dictator Mobutu Sese Seko's days coming to an end, John and the Reuters crew came under attack from the authorities and their deportation was ordered. It was John who organised a speed boat escape across the Congo River that could have come from a James Bond film – perhaps with touches of Nigeria's chaotic Nollywood film industry.
When Reuters upgraded its Nigeria coverage and appointed a full bureau chief, it was John who was the perfect person. The fact that John's stature in Nigeria remained so high was evident from his spectacular welcome party, attended by the chief of police, senior army officers and leading politicians among others.
"To me he was significant as a Black guy who made it at Reuters. To that extent, he was a role model," said Matthew Mpoke Bigg, a colleague who is now with The New York Times.
After Nigeria, John moved to Johannesburg as bureau chief for southern Africa. There were difficult stories to cover such as the rolling crisis in Zimbabwe, but the narrative around Africa was shifting to one of opportunity and investment.
John was a leading force in shaping that as bureau chief and at the helm of the Reuters Africa website, making it the go-to place for news about the continent and winning the best site award at the Diageo Africa Business Reporting awards.
"He had a great sense of fun, a tremendous belly laugh and was very respected in Nigeria and elsewhere on the continent," said former Reuters Middle East and Africa editor Barry Moody, noting John's "Healthy cynicism about political leaders inside and outside Africa with a good bullshit detector."
John retired from Reuters in 2009 having had an impact that few could match.
At their home in Johannesburg, John and Chizi were as much a centre of attention as ever with fabulous parties that brought together journalists and movers and shakers.
John was not done with the news world. He became a valued consultant to media organisations and other institutions and returned to the broadcast world as the pioneer managing editor of the Arise News Network, setting the stage for its emergence as a global news service.
"A giant in the Africa media industry, yet a kind man who inspired so many young people across the continent to be better journalists," wrote Gary Alfonso, a former CEO and managing director for CNBC Africa and for Fox in Africa. "You taught me about people. And generosity. And writing. You leave the media industry in a better state than you found it."
John's last major piece of work was a book he wrote for Afreximbank, published in 2021 and titled One Market: The Making of the Inaugural Intra-African Trade Fair. John knew he was falling ill and was happy to have completed the assignment "right on time" as he put it. As always, he delivered.
John fought the long and valiant battle against motor neurone disease (ALS) with the dedication he had brought to everything he did.
Some of John's many friends were lucky to speak to him or send messages as the end neared. He smiled when he heard them. And there was still that old sparkle in his eye.
"He was selfless to his last breath," his family said in a statement.
John died peacefully in Johannesburg surrounded by his family.
He is survived by his wife Winnie "Chizi" Chiahemen; daughters: Ide Wise, Fanen Chiahemen and Mimi Chiahemen as well as his grandson Finley Hemen Kanyin Wise and son-in-law, Ben Wise. He is also survived by brothers and sisters, including Tom Chiahemen, who was inspired by his brother to follow him into journalism and is now a publisher in Abuja.
Funeral Oration for John Chiahemen
By Prof. Iyorwuese Hagher
My Lords Spiritual, the family of John Neji Chiahemen; Winnie Chiahemen, Children; Ide, Fanen, Mimi, and grandson Hemen. Tom Chiahemen his younger brother and the Nigerian Delegation; Senator Udo Udoma, Dr. Cletus Akwaya, Chief Tony Nnacheta, Prof. Gerald Igyor, Colleagues at Reuters, Our In-Laws from Kenya, Gentlemen of the Media, Fellow mourners.

Ladies and Gentlemen.
I am Ambassador Iyorwuese Hagher, a classmate of John Neji Chiahemen. We were born and nurtured in the same ethnic environment of Tivland in Central Nigeria and were the last generation of those born under the British Colony of Nigeria.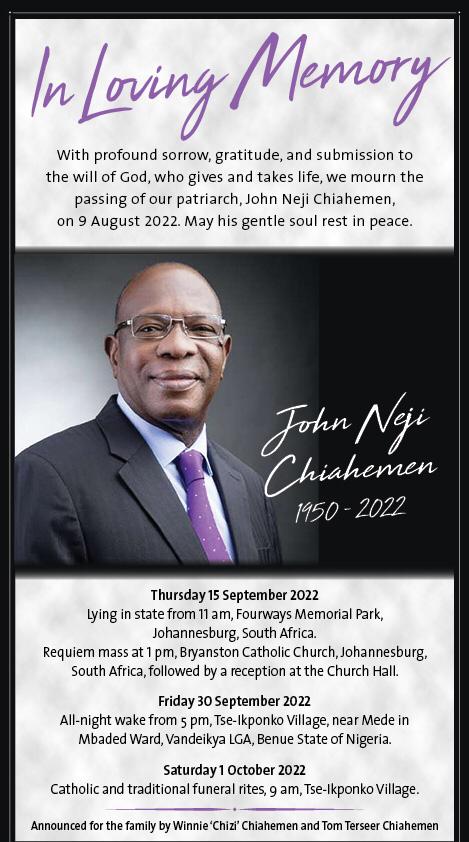 We were also the first generation of Nigerians with higher education to produce post-colonial manpower.
I wish to thank you all for the unique opportunity you have given, to pay the last respects to my friend. But I'm not here just to pay respect to my friend and compatriot.
I am here to also honor Africa's best journalist, a leading Pan Africanist, a humanist and our hero.
Neji was born in Tse Ikponko and his parents nurtured him on the vibrant Tiv story telling tradition. This nurturing became the seeds of media practice in his young mind. But it was at the Provincial Secondary School Katsina-Ala that Neji first acquired the tools of journalism, and went on to perfect his style and brand as a global media mogul.
Katsina-Ala Provincial Secondary school was a vastly diverse community of various tribes and races. It was here that Neji's character was fully developed. Unlike many people who embrace careers and destinies through accidents or later in life, Neji grew from being a child storyteller to becoming a journalist while yet in Secondary School where he was on the editorial board of the school student Newspaper "The Ferry Point" edited by Mr. Isaac Yongo, who was a senior student. Even though I was at Bristow, a missionary secondary school, we met often, specially during the holidays.
Neji was a straight A student, and was known for starting a reading Club with his friends. They read hundreds of novels, excelled in debates, and were the most brilliant. The club was also, dubbed, the mischief club in Philips house. They engaged in pranks against their senior students and teachers. They resisted the school fagging system. He was very practical and hands on personality. When everybody complained about the poor school diet, Neji did not complain. He cultivated vegetables behind his hostel and grew tomatoes which he supplied to other students and mixed these in the rice. He called these tomatoes "cheese".
Neji developed an independent mind and often went afoul of the military style- education foisted on them by a British retired army officer Clafton, the principal. This independence and resistant culture became a lifelong preoccupation to fight injustices in later life and to seek to expose them. Neji attended the All Girls Secondary School St. Louis Jos for his Higher School. He and
his classmates were the only males in the school. Neji was editor of the Lodestar School Newspaper. By attending an all-girls secondary school Neji assumed a comic and curious identity as an "old girl" of Saint Louis College. The alumni still refers to him as their late old girl alumnus. St. Louis taught the young Neji the significance of and respect for cultural, racial, ethnic and gender pluralism.
It was at Ahmadu Bello University that Neji and I became close friends. He had irrepressible charm. He exuded joy at all times. He had his nose in all happenings on campus and a breaking news mentality. He regaled us with witty, titillating and irreverent anecdotes about our hated professors. He was loyal and protective of his friends and favorite professors. He was master of words which he deployed strategically. Our campus life was intense but intellectually productive.
We joined the Anti-Apartheid movement and our heroes were Nelson Mandela, Martin Luther King Jr. Mohammed Ali, and Samora Machel. We clapped, danced with joy and mimicked the fiery rhetorics of Samora Machel when he came to receive an honorary doctorate degree at ABU in 1972. It was Aluta continua all the way. We embraced the global movement for the emancipation of the black race, and advocated for the decolonization of imagination and consciousness.
While on a long holiday in Jos Neji got his first professional job as a part-time reporter with the Standard Newspaper. The Newspaper was the protest voice of the minorities of Northern Nigeria. Neji and I never called each other by our names. Since I was older than him, I assumed senior brother status. He deferred to me and called me "Orvesen na jim jim", Meaning my real leader and I in turn also called him by the same nickname "Orvesen na jim jim" my real leader, because he was an intellectual giant, a veritable encyclopedia with vast knowledge about everything.
After graduation I unsuccessfully tried to prevail on him to accept the academic position that was offered to him in the political science department of the university. He rejected the offer with hilarious contempt. "No Thanks. I would rather go out of the sheltered campus and see the world" he told me. And saw the World he did plentifully, traveling and working through the whole world, seeing the world and the world seeing him. I stayed back on campus to teach and research till I left and joined politics. He applauded me.
Neji encouraged me in my academic and literary writings and took two copies of all my published books for himself and Mimi his daughter. I remember the time I went to do research at the University of Nairobi. When Neji returned to Nairobi and found me at the Nairobi Hilton, he went to check me out of the hotel and took me to his home. I stayed with him and Winnie his newly married wife for the rest of my stay in Kenya. I was meeting Winnie for the first time. Winnie was then and now a beautiful, kind and generous soul. They were a perfect couple meant for each other. Neji made me see a beautiful Kenya through his eyes – a sprawling historical entity, diversely rich and struggling to overturn its internal contradictions- like most of post-colonial Africa.
A few months before his demise, he rushed to me his first major published book "One Market: the making of the inaugural Intra-African trade fair."
In his endorsement of the book he wrote, "Orvesen na jim jim Exclusive copy of the book for Orvesen na" "Enjoy." Neji I enjoyed your book. It is a masterpiece and a befitting parting gift
to your beloved Africa. It is a major legacy that summarizes your outlook and mission for Africa's economic liberation from Neo-colonialism. You left us your vision of a united Africa, as a public intellectual and relentless crusader for global social justice. Your dream and belief in an Africa that could once again attain greatness through its drive to reverse engineer the continent, through integration and inter-regional trade, cannot die. It is an idea whose time has come.
Neji lived a beautiful life, a firmly planted life of serving others. He chose his vocation from childhood as a storyteller, and media practitioner par-excellence. Everywhere he went, he broke the news with zest. In his career at the Nigerian Television Authority, he dominated the news through innovation, energy, and uncommon insights. He was an uncommon man. He was a courageous Tiv man, and Pan Africanist, who sought to present the truth at all costs. Many times he put himself in harm's way in search of reality and this truth. Everywhere in Africa where the leadership was unwilling to develop their countries Neji faced existential threats. But he was undaunted.
Neji attained greatness not just because he was the best in his profession, he attained greatness by the measure of courage, generosity, competence, humility, politeness, and the manner in which he treated everybody with respect. He pursued excellence in everything he did. He loved his friends and family and was very loyal to them. He was a trailblazer, and role model and lived the best of himself. I will miss those special days he breezed into Abuja and we sat alone and laughed at the foibles of the world. Our world.
Neji was totally devoid of jealousy, guile, and malice. He laughed at the world, and at circumstances he found himself in, even when he was treated unjustly by others who used their power of riches and influence. He never dwelt on injustices to himself. He never spoke bad of other people. I and many of John's friends will miss him in diverse ways. All of his friends were special people to him. He was a celebrity who treated all of us also like celebrities. Life with Neji was to be enmeshed in affection and moral joy.
He defined his life with generosity and service. Neji, to paraphrase Helen Keller, "made the light in other peoples eyes his sun, the music in other's ears his symphony and the smile on other lips his happiness." He never trumpeted "who" he was but "whose" he was, and we knew he meant he belonged to us, family friends, Tivland, Nigeria and Africa!
My friend and brother Neji the Bible in Ecclesiasticles 3 vs 1. says "To everything, there is a season. A time for every purpose under the heavens" You fought a good fight. You deserve the crown of glory. It is time to say goodnight. God bless your soul till we meet again in heaven.
A Funeral Oration By Professor Iyorwuese Hagher, Nigeria's Former Ambassador to Canada and Mexico at the Funeral of John Neji Chiahemen In Johannesburg, South Africa Sept.15, 2022
Benue First Lady Celebrates 50th Birthday Anniversary in Style
By David Torough
The Benue State First Lady, Dr. Mrs. Eunice Ortom on Saturday celebrated her golden jubilee of 50th birthday anniversary with people from all walks of life in attendance.
The birthday anniversary came with a lot of significance especially as it is also the last birthday in office as first lady.
The birthday which began with a thanksgiving service at the Redeemed Christian Church of God headquarters on Gboko Road in Makurdi, the Christian family led by the leadership of the Christian Association of Nigeria (CAN), the Pentecostal Fellowship of Nigeria (PFN) and others, showered prayers of blessings upon the Governor's family.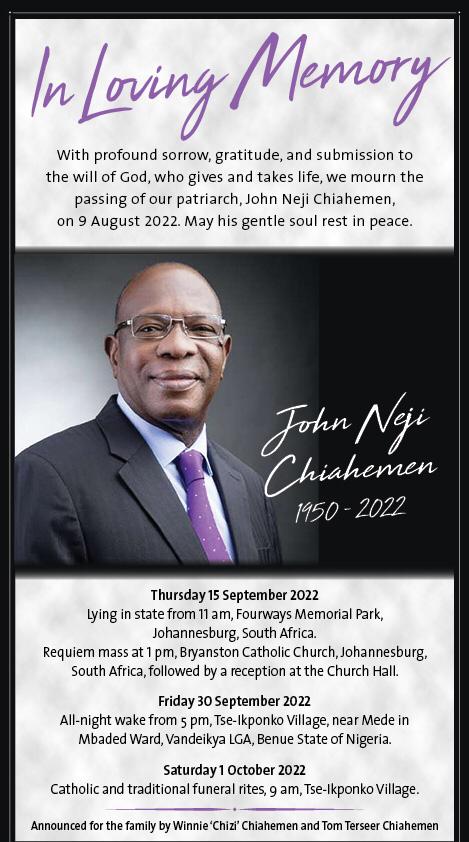 The prayers also specifically solicited the victorious mighty right hand of God Almighty upon Benue State in protection, prosperity and right direction under the stewardship of Ortom and the celebrant, Eunice, as Governor and First Lady.
Various forms of presentations of goodwill were made by children, women and organisations which are beneficiaries of the philanthropic works of the Benue State First Lady, through her Charity Foundation, Eunice Spring of Life Foundation (ESLF).
Messages of goodwill were given by National Chairman of the Peoples Democratic Party (PDP), His Excellency, Sen. Dr. Iyorchia Ayu Vice Presidential Candidate of the PDP and Governor of Delta State, Dr. Ifeanyi Okowa; the Tor Tiv, His Royal Majesty, Prof. James Ayatse and his wife, with Governor Ortom and wife delivering a message of thanksgiving to God Almighty as well as the people of Benue State and their friends and well wishers.
Dignitaries who graced the occasion included, Benue State Deputy Governor, Engr. Benson Abounu, and his wife, Justice Mary Abounu; Governorship Candidate of the PDP in Benue and Speaker of the state Assembly, Engr. Titus Tyoapine Uba and his wife, Mrs. Pauline Uba; Deputy Governorship Candidate of the party, Sir John Ngbede ; Acting State Chairman of the PDP, Hon. Isaac Mffo and members of the State Working Committee of the party and immediate past State Chairman of the All Progressives Congress (APC) in the state, Comrade Abba Yaro.
Also present were First Lady of Taraba State, Her Excellency, Barr. Mrs. Ngunan Darius-Ishyaku; His Royal Majesty, the Och'Idoma, Pst. Dr. John Elaigwu Odogbo and his wife; Senators Emmanuel Yisa Orker Jev of Benue North-West and Patrick Abba Moro of Benue South; House of Representatives and State Assembly members, former Chairman of the EFCC, Dr. Mrs. Mzamber Farida Waziri, members of the Diplomatic community.
National and State Assembly candidates of the PDP for the 2023 elections, Executive Chairmen of local government councils in the state and dignitaries from all walks of life were also on hand to celebrate with the Ortoms.
The birthday celebration was climaxed with an elaborate reception at the Benue people's House, which was attended by Wives of Governors of Taraba, Nasarawa and the Inspector General of Police.
Mrs Ortom was the following hosted by the Nongov Women Development Association at Gbajimba, the Guma Local Government headquarters, her immediate community to another Thanksgiving service. The event was followed by a reception where the celebrant granted N25million to 58 women in various empowerment programmes.
Speakers at the ceremony extolled the celebrant for her philanthropic gestures na durhged her to keep the moment in the various intervention schemes for the less privileged through her pet project -Eunice Spring of Life Foundation(ESPLF)
Does JAMB Decide Cut-off Mark?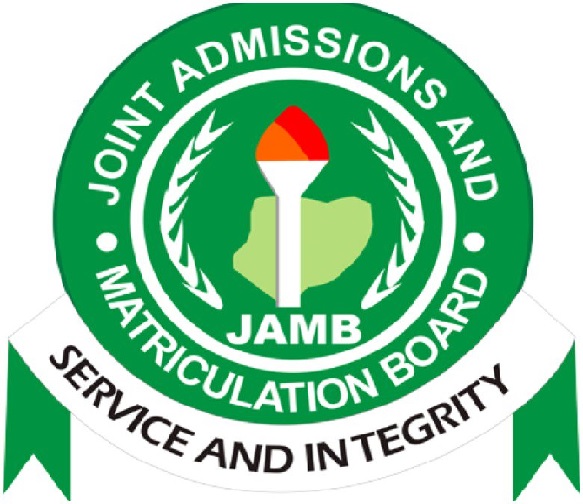 By Fabian Benjamin
There is nothing like a uniform minimum national Unified Tertiary Matriculation Examination (UTME) score for any of the tiers of tertiary institutions and neither does the Joint Admissions and Matriculation Board decide any such requirement for any institution.
The Board does not and has never determined any uniform national UTME scores otherwise known as cut-off mark by the general public for any tertiary institution because, in actual sense, there are no uniform national UTME scores.

The lucid process of admission which the former President of the Academic Staff Union of University, Prof.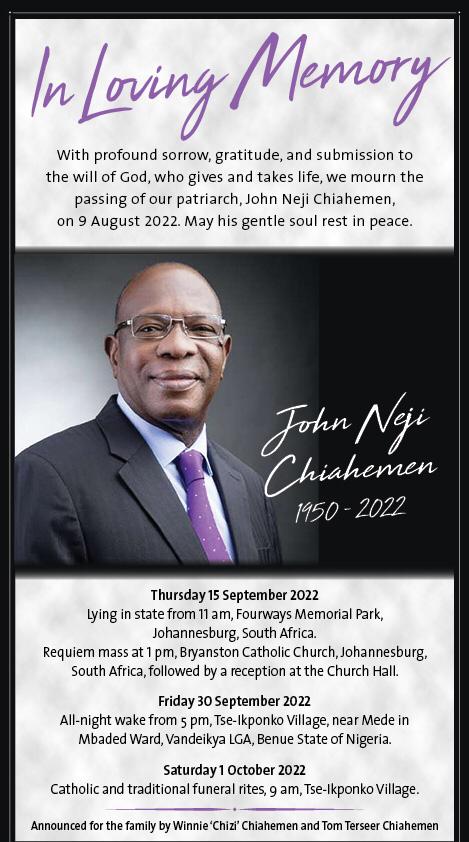 Nasir Fagge, expounded and which was published in Premium Times is the exact process being followed in the conduct of admission exercise to tertiary institutions in the country. This process has even been improved upon with the elimination of human interefence through its full automation with the introduction of the Central Admissions Processing system(CAPS).
For the purpose of emphasis, the Board conducts the UTME and hands over the results to institutions for the conduct of admissions. However, before the admission exercise commences a policy meeting is held with all the Heads of the Institutions in attendance and chaired by the Hon. Minister of Education. At this meeting, the admission guidelines, which include recommendations from individual institutions and their preferred minimum admission scores, are presented and deliberated upon at the meeting and not JAMB as erroneously portrayed by Prof. Fagge, because JAMB is only a member out of the close to about a thousand participants at the meeting.
Prior to the meeting, for instance, more than 50% of the universities had submitted in writing their minimum scores of 200 and above to the Board for presentation to the meeting for the purpose of deliberation. The same applied for the other tiers of tertiary institutions. The implication of this process is that no institution would be able to admit any candidate with any score below what they had submitted as their minimum score.
Perhaps, it is also apt to address the series of misconceptions as to what is generally described as "uniform minimum national UTME score" for admission into tertiary institutions in Nigeria entails. For some time now, many candidates and some members of the general public have been under the erroneous impression that there is a minimum national UTME score set by the Board, which they also refer to as "cut-off point". The truth is that there is nothing like a national minimum UTME score for all Universities, Polytechnics or Colleges of Education in Nigeria as it is only individual institutions which set their minimum entry scores based on their peculiarities.
The Board has no role whatsoever in the decision of the institutions to determine how or with what criteria they want to admit. The role of the Board is to ensure that the goalpost is not shifted in the middle of the game. Furthermore, in most cases, the UTME score is not the sole determinant of placement of candidates into tertiary institutions. As such, the undue attention to the so-called national minimum UTME score (UTME cut-off point) is a major conception of many ill-informed candidates who assumed that they have finally attained the benchmark having achieved the so-called minimum national score or "cut-off point' for admission.
It is, therefore, a double jeopardy for many candidates who subscribed to the popular myth of a uniform UTME score (cut-off) for all Universities, Polytechnics or Colleges of Education in Nigeria.
The myth also incorporates the erroneous impression that it is only the UTME score that constitutes the benchmark for admission. This is far from the truth. Hence, such candidates on attainment of particular grades in the UTME celebrate in advance of their imminent placement in their institutions of choice, which in reality may not come to pass at the end of the day.
The Board, therefore, for the umpteenth time, is stating unequivocally that there is
no uniform minimum UTME score (cut-off) for all Universities, Polytechnics or Colleges of Education in Nigeria because each institution determines and submits to JAMB its minimum UTME score after analysing the UTME scores of its applicants against its available quota. It should, therefore, be noted that decisions at the annual Policy Meeting on Admission does not reduce this minimum prescriptions emanating from the institutions except in the few situations where these institutions had submitted minimum UTME scores that fall below what the Policy Meeting considers as the acceptable minimum score. That is where the much-talked about 140 came from, which is but a baseline that no institution should cross.
It should, therefore, be noted that UTME score is just one of the two or three scores that are generally cumulated to obtain the eventual aggregate score and ranking of the candidates by most institutions. Other parameters are Post-UTME/Post-A/L qualifications screening test score; O/L grade score; and in some cases, physical test (such as applicable in the Nigerian Defence Academy/Police Academy).Therefore, it is the score from all these segments that are added together to have an eventual ranking table or "cut-off" score.
Prof. Fagge and his likes may wish to request the video clips of the proceedings of the just-concluded 2022 Policy Meeting on Admissions to see how institutions are practically in charge of their various submissions on who they want to admit.
Dr Fabian Benjamin is Head, Public Affairs and Protocol JAMB